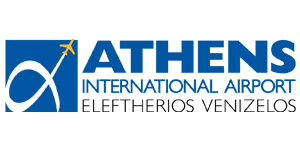 Background Information
With the inauguration of the new Athens International Airport in 2001, the cargo division under Alexis Sioris adopted a strategy to make the cargo operation efficient and competitive by acting as the facilitator.
The handlers, forwarders and airlines together with Customs, formed the airport cargo community committee whose function has been to coordinate all these activities and create an internationally competitive cargo platform.
Video Transcript
The new Athens International Airport, primarily a passenger airport, has always had a strong cargo sector. Alexis has presided over cargo development since the inauguration in 2001.
Alexis, thank you so much for joining us today. Could you briefly outline the philosophy and strategy required for achieving cargo success?
When we moved over to the new airport in 2001, successfully overnight, we had a big challenge to face. The question was how to position a mainly passenger-driven airport on the world cargo map. So having said that, we all know that the Greek economy is rather limited in volume, mainly import-driven, plus at the old airport we had to mull over the situation of old state-run Olympic, and very, very everlasting custom procedures. So, we moved on and said, "we have to do something about this." And what we did is, we laid emphasis on collaborative decision making process, which that could take time. At the same time, further to this, we said that we have to increase traffic. Let's boost export, let's boost transit traffic. And, that's how we moved on, explaining to the stakeholders that they would be doing the business, they're the experts, we place ourselves in the role of the facilitator, the integrator, and the marketer of new business. So, bonding was very important, and still is, and boosting traffic. And to put all this together, we set up the airport cargo limited committee, which is a communication platform for all of us together under our umbrella.
Great, can you tell us a bit more about this committee?
Well actually, what we, when we invite to take part to all the stakeholders, and the airlines, the handlers, the forwarders, the GSAs, customs, especially customs, we ask the decision makers to take part, we meet frequently on a monthly basis, and what we have in mind is to make decisions. Be it to render operations more efficient or to develop new business. So, let's Panagiotis, who's responsible for cargo preparations, and Lina, who's heading development, cargo development, the two cargo experts, to tell you a few success stories. The fact is, and this is true, that in the segment year, 2016, when the Greek economy was flat, we managed to achieve a rise in cargo traffic by 10 percent. So what we say is, we make things fit as we fit together.
Okay, thank you very much. Panagiotis thank you so much for joining us as well. Now you're a specialist in cargo operations. Could you explain how you achieve lean cargo flows?
Yes. In 2003, we wondered: "How swift is cargo handling performance?". Our aim was to define competitive and realistic minimum service times. After a long deliberation within the air cargo community and a pilot phase, those minimum service delivery standards have been annexed to our Freight and Mail Handling agreements. As a result, we sought to know, how efficient and qualitative the overall cargo handling performance was. This is how we brought into life the cargo KPIs.
And how successful is your key performance index?
Well, we take further to the speed of cargo and document flows additional parameters into account, such as the level of operations and housekeeping, safety, security, and environmental input from other affiliated department of Athens International Airport. And last, but not least, the input of the clients, the airlines and the forwarders.  We hence realize improved contract monitoring through ongoing evaluation by own sources and third parties. This leads to even greater operational efficiency and benchmarking capability. Although, I reckon that we are one of the very few, if not the only airport we have such KPIs.
Panagiotis, thank you very much for your views. Now Lina, you've also spent a number of years in the cargo industry and are concentrating on the CEIV certification process at the moment. Could you outline your strategies and plans for us?
Yes, of course. Actually our cargo strategy at the Athens International Airport focus on new developments and creating new flows by combining strengths and by bringing those stakeholders together and by facilitating flows. Our main goal is to develop the transit traffic and through multimodal flows. In this respect, we wish and we seek to further expand our sea air connections, actually in cooperation with Sea Port Authority. We already have an agreement with them and we have already managed to have a transit time five days bringing garments from Haifa to United States through Athens Airport and through the Sea Port of Pireaus and now with the new developments and with the increase of the sea traffic at Pireaus Port we have renewed interest about the sea air connectivity. Finally, regarding, the CEIV certification, we always strive to provide value added services to our clients. So we joined forces again, together as a cargo community and we decided that we go for the IATA CEIV Pharma Certification. There are six companies participating. All the ground and cargo handlers, two forwarders, and one tracking company. Currently we are at the stage of being assessed and we plan to be certified by early 2018. Should the need arise, we as the airport company, plan to improve our centralised infrastructure so that we all together again as a cargo community may offer improved quality services to our clients.
Great. And could you also tell us about your work with customs over the last 10 years.
Yes, that has been interesting. Since the beginning we wanted to talk the language of the customs. So again, we decided as a community to engage a customs consultant. Actually he is a former customs official who has retired and he has helped us to understand the mentality of the customs and together with him we have managed to find many solutions to the customs issues that were troubling us through the last years. For example, we have managed to have a 24 hour operation, we have managed to be able to provide services, custom services to cargo flights during the night should the need arise. And we have also been implementing stations for various new cargo customs projects such as electronic payments, and in general, the move of Greek customs to the paperless environment. What we believe is the most important is that we achieve, not only to facilitate the flows and to further simplify the flows, but what we have achieved is that we have strengthened our bonds between the cargo community and the customs and now we all together work as business partners so that we may offer better services to all our clients. That means to all of you.
One big happy family.
One big happy family. Correct.
Thank you, all three of you, for joining me today and we wish you every success in the future.
Thank you very much.
Download The Thumbnail Image
The thumbnail image for this video interview can be found below. You are welcome to use this thumbnail in your marketing materials. Simply click on the image and then right-click and choose 'Save Image as…'
Industry Views Videos
See below a list of video interviews from industry leaders at the 2017 Air Cargo Europe in Munich. Find out about their latest developments, the challenges they face and their opinions on the future of the air cargo industry.