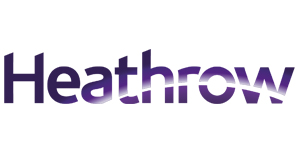 LHR
We interviewed Nick Platts of LHR to discuss engagement and collaboration across the air cargo supply chain.
Background Information
Nick started in freight 27 years ago in Australia, first working for the national coach company then enlisting in the Royal Australian Air Force as a pilot for ten years. On leaving the military Nick moved to the UK, joining FedEx to run their Heathrow depot for three years. He also sat on the board of CFL, a vendor-neutral handling facility based in the Heathrow Cargo area. That led to Nick joining Heathrow in 2012 as part of the operational team looking after the 400 companies working at the airport. Nick became Head of Cargo at Heathrow in May 2015.
Heathrow is the largest UK port by value, handling 30% of UK exports. Our ambition is to become one of Europe's best airports for cargo – timely, predictable and easy to do business with. They serve 180 destinations in 85 countries, with 95% of Heathrow cargo flying belly hold in passenger aircraft.
Their cargo strategy will lift freight volumes to 3 million tonnes a year by 2040 through improved service and increased capacity from a third runway. They're investing millions to revolutionise their cargo hub, reduce throughput times and improve facilities.
Video Transcript
Heathrow is the UK's largest port by value, handling 30% of all UK imports. It serves 180 destinations in 85 countries and it's flying belly-hold is 95%. Nick Platts is an ex Australian airport pilot and he joined Heathrow airport in 2012 and became head of cargo in 2015.
Nick, thanks so much for joining me again today. Tell us about the progress you've made since we met in Paris.
Well I've had some really good dialogue with the community. We as an airport are progressing our plans to deliver the road map for our strategic ambition by 2030 to be one of the best in Europe for cargo. So, those plans are progressing. The strategy is still the same and I've been madly running around giving blood, sweat, and tears for the cargo industry to try and get those plans over the line and delivered. So, it's been a very good year. Obviously we're riding the wave of increased demand across the globe that we've seen the last quarter of last year has continued on into this year and we're seeing that through Heathrow, as well. So, the volumes are healthy, they're going the right way, which is fantastic. We've got more freighters coming into Heathrow which is fantastic. And more are welcome. So, yes, I think the strategy's landed well. I've had good feedback over the last 12 months and the plans are starting to get built into the master plan for the airport.
And you have some ambitious targets. How do you plan to meet those targets?
Well, there's nothing like a bit of ambition to spur us on. So, as a business I think we need to set an ambitious target because we're so far behind everybody else. We've started from a low base and we need to overtake what some of the other airports are doing so we can position ourselves as one of the best in Europe. So, you know, we're good at taking off a big chunk and chewing like mad on an ambitious target. So, we'll keep that focus, it's driving our plans, it's driving everybody's focus and attention. Everybody understands what it is I'm trying to achieve. And so the support is coming in behind it, we're just now working out how and when we can deliver what we need to deliver.
And how important is collaboration to you within Heathrow and the industry in general?
Well, I mean, Heathrow couldn't operate without collaboration. We're required to by the regulator and our licence obliges us to collaborate with the airlines. But for me, my customers are the forwarders. Yes, I talk to the airlines and make sure they've got what they need. But more importantly for me, I need to engage with the forwarders to understand what their needs are and what the shippers needs are so that I can plan ahead and get that infrastructure into Heathrow to support that trade lane. It takes us years to get anything built. I mean, third runway, we're talking about 2025. And we're planning it now, so it's that sort of time scale that I need to think ahead. So, I'm trying to second guess what the market is doing. And unless I get information from the forwarders, from the shippers, from the airlines, about their strategies and where they see the market going in the future, I need to bring that back into the business, translate that into airport speak and make sure that we deliver the infrastructure that they need to deliver the service they want.
And has any progress been made in terms of the third runway that you mentioned?
Yeah, so, last year we had some great news that the government listed Heathrow third runway as its preferred scheme. So, which is fantastic. And we've started planning in more detail what that expansion plan will look like. Obviously the Department for Transport's out for consultation at the moment, and we encourage everybody to respond to the DFT to express their views about what Heathrow should be in the future. On the back of that consultation, we'll go out for our own consultation later this year on the first kind of high level design and plans for the airport. We submitted an idea to the airports commission and the airport commission and the government have come back and said no, we want to challenge you on how long it's going to take to build and how much it's going to cost. So, we've taken that information back and we're redesigning the proposal and we'll come out later this year with some high level ideas. Ask the community, is this acceptable? And then we'll take that response and we'll go into a deep dive on that next year. So, we've gone from reasonably confident to reasonably more confident. Nothing's certain. It's a long planning process so anything can happen. We take our environmental impact very seriously. So, we're working through, that's probably the emphasis for us now, is to work out how we can minimise the impact on the surrounding communities as part of that plan. And I think what will come out later this year will be really something special.
The air logistics can be a great career for young people. How do you think we go about encouraging them?
Yeah, I think we need to understand the millennials more than as an industry we do. They're not so motivated by career and salaries in the way that perhaps we and others of our ilk were. So I think they're looking for something meaningful. Something that means something, give something back to the world community. So, I think we need to give them something that they value rather than just a cash salary here you go. The role has got to be fulfilling for them personally, but also make a contribution. So, I think we need to do a better job at describing the value of the role and how the air cargo industry supports global growth, how it supports all nations to grow their economies and lift people out of poverty through trade. And I think we can do a better job of explaining how that links and make the roles, each individual role within the air cargo chain, make it more obvious how that contributes to the sense of community globally. We've got a plan, sustainability 2.0. Talks about a sustainable airport of the future and as part of that it's encouraging a new generation to come through. So, we want to work with universities, schools, businesses. We've got new apprenticeships coming through. So, we want to encourage that locally, at Heathrow, but I think the industry globally needs to do a better job at explaining to the younger generation the value that we place on them for the future, and try and draw them in. Because without them, we'll be in real trouble.
Well do you think the rise in social media in the industry may promote that?
Certainly I've seen an explosion in the conversation that's happening in social media. And I think all the airports are starting to engage better with their local communities through the use of social media. I think the immediacy of that helps with the conversation and gets people interested. But that just starts the conversation, it doesn't get the buy in and the commitment. You need to go much deeper than that. So, I think we need to engage at the schools so we go out to the primary schools. We have a primary school challenge and a secondary school challenge that we go out into the local schools. Explain to them what the airport does, and for the primary school challenge last year we talked about air cargo. So, we were talking to them about the things that move on an aircraft and how important it is. And the kids were amazed and interested and they were really intrigued. And these are the people that'll be working at the airport in five, 10 years time. The secondary school challenge, same again. We're trying to encourage them into a career in air cargo. Be it ramp handling, be it in the sheds, be it driving, management type careers, marketing. It covers everything so I think we're doing that locally. It would be great to see it on a more national scale and international.
Brilliant, well thank you for your time and contribution to our industry forum today.
You're very welcome, thanks.
Industry Views Videos
See below a list of video interviews from industry leaders at the 2017 Air Cargo Europe in Munich. Find out about their latest developments, the challenges they face and their opinions on the future of the air cargo industry.