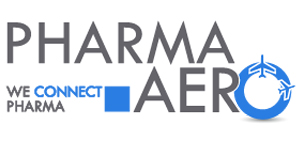 Background Information
Nathan has been leading the CEIV project at Brussels airport and is now heading the Aero Pharma project  which has attracted many members from around the world.
Pharma.Aero is a powerful cross industry collaboration for pharma shippers CEIV certified cargo communities, airports and industry stakeholders. It is an initiative from Brussels airport and Miami airport. Its mission is to foster more collaboration between CEIV certified cargo airport communities handling pharmaceuticals.
Video Transcript
Pharma.Aero is an association of members from across the industry who's aim is to foster close collaboration in pharma logistics and handling services. Joining me today is Nathan, who's the chairman of Pharma.Aero and vice chairman, Jimmy.
Thank you both so much for joining me. Nathan, can you begin by telling us a little bit about your role?
Yes, we have set-up the organisation a couple of months ago so Brussels Airport and Miami took the initiative to launch the association and we've started with inviting the pharmaceutical manufacturers. They are key in the organisation; they lead us and tell us what the priorities are and which issues we should solve in handling our shipments. Within Europe, Brussels airports takes the coordinating role and will deliver added value and manage the project.
Excellent. And Jimmy, your role?
My role is vice chairman of the association and as Nathan mentioned, sometime about a year ago or so, we realised that we both share the common interest of advancing Pharma-transport air industry. We're both very committed to Pharma and increasing our operations related to Pharma and so we decided to work together and create the association. Of course, Nathan takes the lead and I take a secondary role in advancing the association, gaining more members into the association, carrying out projects and just collaborating with other similar stakeholders around the world, other airports, other ground handling companies and airlines and other, just every other stakeholder in the pharma industry, including of course, the pharma shipper which is key to the association.
And Nathan, can you tell us the aims of Pharma.Aero?
Pharma.Aero aims at creating end to end connectivity for pharmaceutical shipments. So in the end, we want to create a global network of key stakeholders, airports, and industry stakeholders that all collaborate and that all have this vision of improving the handling of pharmaceutical shipments. So in the end, it's all about efficiency, about collaboration, and about working together in order to create a true end to end, reliable transports via air cargo.
And the Pharma sector is a multi-billion Euro market. Is there enough share and enough business for everyone?
There is enough business but our focus is not just on the level of business, it's really, we want to optimise and create and strengthen trade lanes. So we're not as much concerned about increasing our business tremendously, we want to ensure that the transport of pharma from end to end, as Nathan mentioned, is secure, it's safe, it's reliable, because we want to gain the trust of the shipper, the pharma shipper, that will lead to more business for our airports, that will make us happy, and we, in turn, will make the shippers happy by being responsive to their needs, listening to ways of improving the transport of their products, so in the end, we both win with the association.
Nathan, has the Cool Dolly project been successful since we last met?
The Cool Dolly project is a nice example of what you can achieve by working together by collaborating in a cargo community. By involving other preferred pharmagate ways that are in a membership of Pharma.Aero, we will implement similar projects at other airports as well, creating in the end, reliable transport, not just in Brussels, but also at the transit point and at the final destination so it is really key to share expertise, to collaborate, and to explain to others how they can use the lessons learned from Brussels and they can share their expertise so we really believe that by collaborating on this central team this same vision that this will make a difference and ultimately pharmaceutical shipper will benefit from it.
And Jimmy, what's the future membership strategy?
Well, our future, first of all, our membership has been going very well. We started in October of 2016, we launched the association, already we have 16 members total and so we're more than pleased with already the level of commitment, buying into this association. Our focus now will be to roll out projects where we will share knowledge, as Nathan said, come up with solutions to improving the transport of pharma and so membership is still important to to us, but right now, we're focusing more on rolling out the projects that will benefit all the stakeholders and really add value to our whole mission at Pharma.Aero.
Well, we'll be watching your progress with great interest. Good luck in the future.
Thank you.
Thank you so much for joining me. Thank you.
Thank you.
Download The Thumbnail Image
The thumbnail image for this video interview can be found below. You are welcome to use this thumbnail in your marketing materials. Simply click on the image and then right-click and choose 'Save Image as…'
Industry Views Videos
See below a list of video interviews from industry leaders at the 2017 Air Cargo Europe in Munich. Find out about their latest developments, the challenges they face and their opinions on the future of the air cargo industry.